More info
T-shirt with ilustration "A Dunlin flock Memories of last summer" printed by craft silkscreen with laundered resistant water-based inks. Available in several models, colors and sizes.
Size guide
Pick your favorite t-shirt, put it stretched on a flat surface and measure the chest width (A) ahead and long T (B) from the neck down behind. Compare our size guide, depending on the chosen model (Basic, Entallada, Fissure ...)
The above measures may have a tolerance of about 2 cm
Basic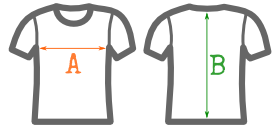 Composition: 100% cotton (165 g/m²)
Reinforced covered seams in neck and shoulders. Side seams.
Entallada (fit) vintage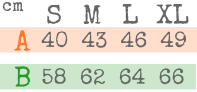 Composition: 100% cotton (140 g/m²)
Under folded sleeve with shots. Neck off. Fitted. Dyeing effect greater seams (neck under sleeve, hem and side seams). Cold dyeing treatment (dyeing bath and then cold air drying, preserving the quality of cotton and achieving a vintage effect).