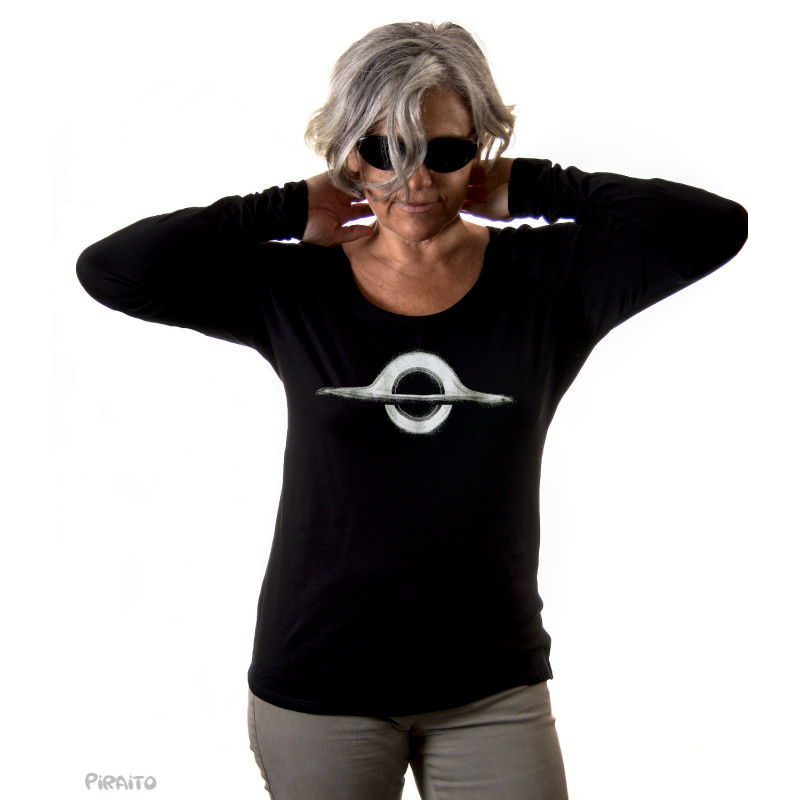 sleeve T-shirt Black hole Stellar interest
In a black hole, time turns into space and space into time.
A black hole is like an abyss in space-time, an unfathomable and dark void that devours everything that approaches it, even light itself. It is a formidable and terrifying presence thanks to science fiction, an endless enigma that fascinates and challenges our understanding. As a poem of terror and beauty at the same time, a black hole is a force of nature that reminds us how small and insignificant we are in the immense universe.

Piraito
031201207213
Long sleeve t-shirt with ilustration "Black hole Stellar interest" printed by craft silkscreen with laundered resistant water-based inks. Available in several models and sizes.
div class="info_modelos">
Size guide
Pick your favorite t-shirt, put it stretched on a flat surface and measure the chest width (A) ahead and long T (B) from the neck down behind. Compare our size guide, depending on the chosen model (Basic, Entallada, Fissure ...)
The above measures may have a tolerance of about 2 cm
long sleeve basic
Composition: 100% cotton (160 g/m²)
Long sleeve t-shirt and 4 layer neck. Reinforced covered seams in collar and shoulders. No cuffs. Side seams.
long sleeve fit
Composition: 100% cotton (160 g/m²)
Semi-fitted t-shirt, long sleeve and fine trim neck. No cuffs. Side seams.
Security payments
Only secure payment methods: PayPal, Amazón Pay, bank transfers or bank cards.
Delivery policy
Ships to many world places. See prices and destinations *
Return policy
You can return any product in 15 days.