Size guide
Grab your favorite hoodie or sweatshirt, put it stretched on a flat surface and measure the width of chest (A) and the length of the sweatshirt (B) ahead from the base of the collar down, and the long sleeve with sleeve stretched from the center of the collar to the hilt. Compare our size guide...
The above measures may have a tolerance of about 2 cm
Hoodie with ilustration
"Gaviotas sombrías
Migrants without borders"
printed by
craft silkscreen
with laundered resistant
water-based inks
. Available in several models, colours and sizes.
basic sweeter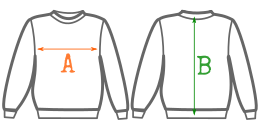 Composition: 65% polyester / 35% cotton, brushed fleece (280 g/m²)
Crew neck sweatshirt with 1x1 rib elastane collar, cuffs and waist. Reinforced covered seams in collar.
Hoodie with high neck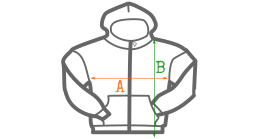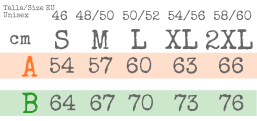 Composition: 50% cotton / 50% polyester, brushed fleece. (280 g/m²)
Sweat hooded jacket with zipper. Ribbed detail in hood and pocket edge. Kangaroo style pocket. 2x2 rib elastane in cuffs and waist.

Hooded sweatshirt that adapts to any time of the day.