More info
T-shirt with ilustration "Thorned heart Do you get a catus where a heart used to be?" printed by craft silkscreen with laundered resistant water-based inks. Available in several models, colors and sizes.
Size guide
Pick your favorite t-shirt, put it stretched on a flat surface and measure the chest width (A) ahead and long T (B) from the neck down behind. Compare our size guide, depending on the chosen model (Basic, Entallada, Fissure ...)
The above measures may have a tolerance of about 2 cm
Basic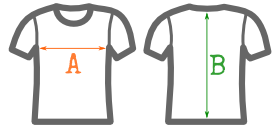 Composition: 100% cotton (165 g/m²)
Reinforced covered seams in neck and shoulders. Side seams.
Fitted V neck model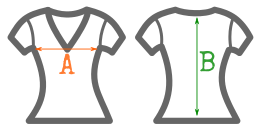 Composition: 100% cotton (155 g/m²)
V-neck neckline with ribbed trim, fitted, side seams.