More info
Bag with ilustration "Crazy kid What's a girl like you doing in a place like this?" printed by craft silkscreen with laundered resistant water-based inks. Available in several models, colors and sizes.None
Clutch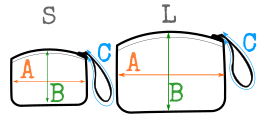 Composition: 100% Organic Brushed Cotton Canvas (407 g/m²)
Multi-purpose use
Available in two sizes - S and L
Handle length - 15cm
Certified organic cotton
Zippered closure
Wristlet strap (length: 15 cm)
Thick organic cotton handbag.
They have the perfect size to carry in your bag and you will find it very useful: case, glasses, wallet, keys, mobile, e-book ...
It is also ideal to use when you do not want to carry a large bag and you just need to carry some things.